Friends of Copperfield Nature Trails (FCNT for short) is a volunteer-based community of friendly neighbors who either currently live in, live near, or used to live in the Copperfield area here in Austin, Texas.  The community is dedicated to improving the neighborhood, focusing primarily on the general maintenance of the local nature trails connecting to Copperfield Park.
FCNT typically does park cleanups at least four times a year.  While these are the official volunteer times, most of us honestly like to just pick up some trash any time we're walking through the park, doing whatever we can to keep our environment clean and friendly for the many welcomed guests that visit on a daily basis.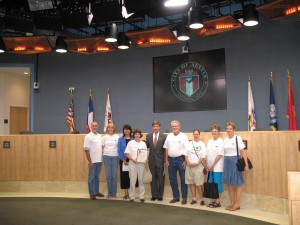 FCNT at city hall in June of 2009 – Click for better resolution
Additionally, we work in conjunction with Austin Parks Foundation, Keep Austin Beautiful, and the City of Austin for funding and resources in order to better clean our parks and to stay connected to the general region of parks and people keeping them clean.
Ultimately, we're really just a bunch of friendly neighbors.  We bump into each other on morning or evening walks, we see each other on the way to work, we chat at the park, and we have some nice cleanup after parties.  We're really all just a group of neighbors just trying to do what we can to make our neighborhood a nicer place for ourselves and everyone who chooses to visit, which is why we're the Friends of Copperfield Nature Trails.